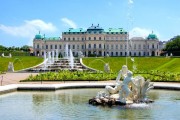 Scenic transfers aka sightseeing taxis are becoming more popular and seem to be getting much more attention of passengers in upcoming 2015 season. Martin's taxi Prague is local Czech republic transportation specialist, which focuses on provision of tailor made and fully customizable taxi transfers across the Czech Republic and neighboring countries.
Prague, Czech Republic, March 5, 2015 (Newswire.com) - What are scenic transfers and sightseeing taxis?
Scenic transfers are door-to-door transfers which offer optional stopping for additional sightseeing or shopping on the way from point A to point B.
Imagine you are staying in Vienna, Austria and plan to go to Prague, Czech Republic. Nowadays there are several options: plane, train, public bus or a private car. Only with a private car you have an option to fully customize the route and break the usual 4 hours journey into several shorter parts. Planes, trains and public buses whether do not give you the option or it is simply too much hassle to plan the connection effectively.
Martin's HFS s.r.o. Taxi Prague offers unique service based on 15 years experience in the transportation and travel industry. In the case of the Vienna to Prague transportation the premade packages include sightseeing stop in UNESCO listed medieval town Cesky Krumlov and rural village Holasovice, Parndorf designer's shopping outlet - the most popular shopping village in the region, or even the most famous spa town Karlovy Vary, located in the western Bohemia. On request it is possible to book completely tailor made taxi service between many European cities.
The personalized sightseeing taxi is getting more popular among the travellers and once experienced, it is not an option to travel in the old fashion way as Sallie Singleton refers:
"Hi dear Martin, I Just want to say thank you so very much for making the huge effort to drive us from Berlin to Dresden with a stop in Colditz Castle. We understand what an exhausting time it must have been for you but it meant everything to have you drive us. Your new Mercedes Benz car is THE BEST but then you are the BEST DRIVER one could possibly dream of. I showed your photo to Elaine and she sends you her regards with great memories of our lunch in Cesky Krumlov on the way from Vienna to Prague a few years ago."
To find out more about scenic transfers and transport services Prague and other cities in the Czech Republic and European Union, please visit http://www.taxi-transfers.cz/; you can also find more information in our transportation travel blog.
Share: